Rogers, AR, January 4, 2022 – For 2022, GAMO Adult Precision Airguns brings the multi-shot ARROW PCP in .177 and .22 calibers. This sleek new PCP air rifle gives shooters the total package at an economical price.
The new ARROW PCP features a multi-shot rotary magazine that holds 10 pellets, and the ARROW Straight Charging Handle System for ergonomic and ambidextrous reloading. The new PCP airgun features a 128cc air tank that provides up to 60 shots of autonomy. Its highly efficient inner mechanism extends the gun's sweet spot, so you get superb accuracy longer. The fully integrated pressure gauge precisely shows the gun's inner air pressure.
In addition to the best in velocity and accuracy, the new ARROW PCP airgun is also quieter than you think. GAMO's Whisper Fusion technology incorporates a double-integrated sound moderator so the pellet travels through two different chambers to compress the sound and prevent the noise expansion.
The ARROW looks as good as it shoots. It's built to last and engineered to perform. This PCP airgun is designed, engineered and manufactured by GAMO in Spain under the most demanding quality standards.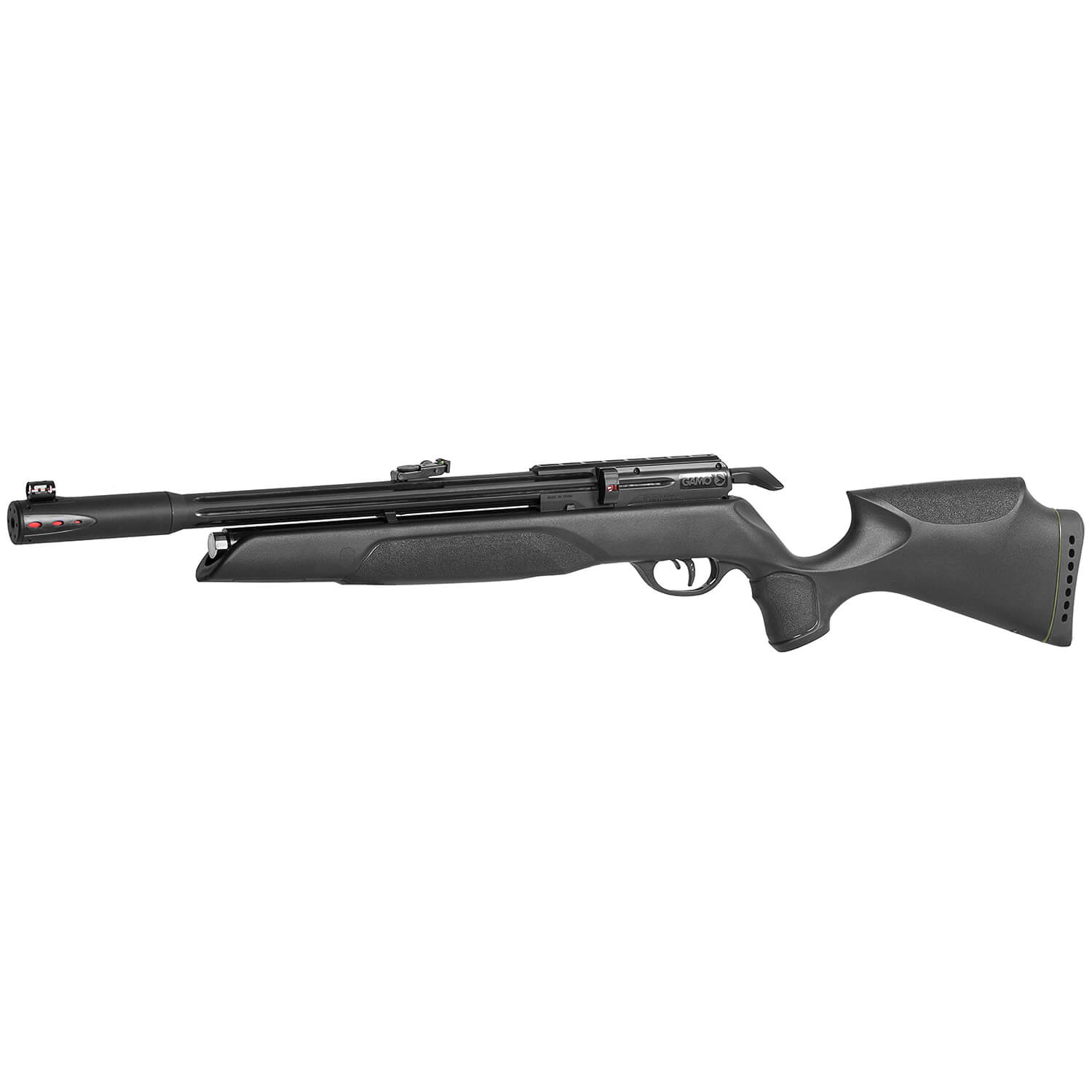 GAMO ARROW
Caliber: .22 / .177
Velocity: 900 fps .22 / 1200 fps .177
Action: Multi-Shot 10-Round Magazine
Dampener: Whisper Fusion Noise Dampening Technology
Power: PCP
Trigger: CAT (Custom Action Trigger) 2 Stage
Scope: Open Sights
Rail: Dovetail
Weight: 5lbs
Shot Count: +/- 60 Shots
Cylinder Capacity: 125cc
Connector: Quick Fill "Foster" Connector
Pressure Gauge: On-Board Pressure Gauge
Stock: Automotive-Grade Glass-Filled Nylon All Weather
Checkering: Non-Slip Texture Design on Grip and Forearm
Barrel: Metal-Jacketed Steel Rifled
To check availability dates for this model and join our waitlist please click here: 
GAMO Arrow PCP .177   /   GAMO Arrow PCP .22